Our story — from field to jar
Like many good stories, it all began with mayonnaise. We started making mayo in 1986, selling to local chefs for their restaurants. Our Classic Mayonnaise soon went on to win a Gold Award at The Great Taste Awards and we knew we were on to something.
Due to popular demand, we then went on to make bespoke products for a wide range of other farm shops, delis and eateries. Many of the condiments you eat at restaurants have been made by us!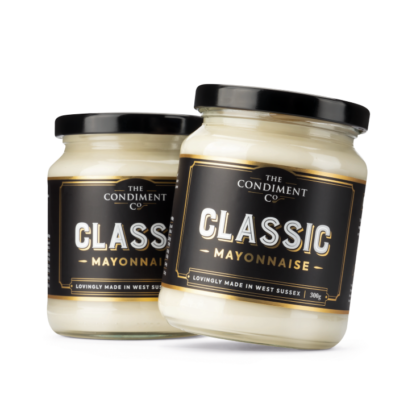 A family of foodies
As a small, family-run team, we have gone on 
to develop our own-brand range of mayonnaises, sauces, table sauces, mustards and salad dressings to sit proudly on your kitchen table. We have an in-house Chef, Stefano who is busy developing recipes daily.
All of our condiments are manufactured in small batches to ensure our customers enjoy the freshest product available. We only ever use free-range eggs and source our ingredients as locally as possible – it's only right, hey Betty?
Wholesale
We supply a wide range of customers from farm shops and delis to larger retail outlets, mainly via wholesalers and distributors.
If you would like more information on our product range, our wholesale prices or are interested in any of our products for your business, please contact us on 0845 120 6282 or drop us an email.
Bespoke
We have a very busy product development department, developing and replicating sauces for a wide range of trades and target markets. If you are looking for bespoke manufacturing under your label this is something we can help you with.